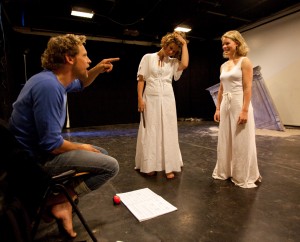 Sybrand van der Werf (*1977) has a background in music and theatre as well as in science. After completing his bachelors in astronomy he studied artificial intelligence with an emphasis on cognitive musicology at the Rijksuniversiteit Groningen (State University Groningen). During his studies he played in several orchestras and conducted the Elgar String Ensemble. In 1999 he directed the opera The Devil and Kate by Antonín Dvorák by which event this opera celebrated its Dutch première. Van der Werf graduated as Master of Science in 2003 and continued his studies at the Toneelacademie Maastricht (Theatre Academy Maastricht), where he graduated in 2006 as director with special emphasis on opera and music theatre. Shortly after completing his studies Van der Werf directed Bluebeards Castle by Belá Bartók on location (Château des Cortils) in Belgium and the performance Losse Bandjes, an improvisation-based play made for youngsters about love and sexuality, which was mentioned by the Hustinxprice Committee as being "one of the best educational plays of the last years".
Directly after completing his studies in Maastricht, Sybrand assisted opera directors David Prins (the new opera Jasser (text by Abdelkader Benali and music by Guy Harris) and Purcell's the Tempest), Carolyn Sittig (Cendrillon by Jules Massenet) and Jetske Mijnssen (Il Barbiere di Siviglia by Rossini). In 2009, he directed his professional opera debut at Opera Zuid: The Tale of Czar Saltán (Rimsky-Korsakov) in his own translation. The production was cheered in the Dutch and German press as being "a real fairy-tale!" This same year he also directed Purcell's King Arthur on the Festival de Musique in Strassbourg (restaged in 2010 in Dinard, France), Haydn's L'Isola Disabitata at the Grachtenfestival in Amsterdam and L'Histoire du Soldat (Stravinsky). A new youth opera production, Brothers, based on music by Prokofiev, premiered in 2010. This same year his staging of Le Nozze di Figaro (together with Nynke van den Bergh) was welcomed by the press as being "convincing" and "surprising". Van der Werf staged "Le Nozze di Figaro" again that year, this time in a chamber orchestra adaptation with Barokopera Amsterdam. In 2011, Van der Werf staged Leo Delibes' Lakmé. In 2012 Sybrand staged two completely new productions: Willem III about William and Mary, based on the later works of Henry Purcell written for these monarchs (premiered in Dinard, France) and Puccini Passionel, a short opera compiled of some of the most famous arias by Puccini, premiered during the Grachtenfestival 2012.
Apart from his work in opera, Sybrand worked extensively in youth theatre. With the Dutch company Het Laagland he directed the short piece Zus and played in Ronja the Robbers daughter (for which he also provided the music), The Creation and The Master of the Black Mill (Krabat). In Germany, Sybrand works with the freie Szene in Münster (in 2010 Ende sämtlicher Streckenverbote and in 2012 Hotel _uropa) and the Frankfurter company Theater Grüne Sosse (2011 Himmel and Meer and 2012 The daughter of the Crook King).
In summer 2013, Sybrand will stage Dido and Aeneas, Love and Hell. This production with Barokopera Amsterdam not only covers the beginning of the story of Dido and Aeneas as told in the famous opera by Purcell, but also the second part where Aeneas meets Dido again in hell…